B/CS Habitat for Humanity's new Faith Subdivision is officially a construction zone. The new road has been cut and installation of the infrastructure is underway. If all goes according to schedule, Habitat will start building the first homes in late September or early October.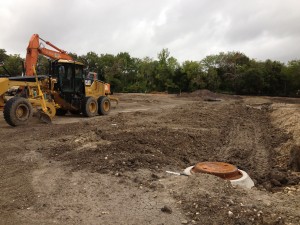 The Faith Subdivision, off East Martin Luther King Drive in Bryan, will house 24 new, energy-efficient homes. Habitat officially broke ground in Faith on June 6, with a ceremony to celebrate what will soon be a thriving community of 24 deserving local families.
KBTX anchor Michael Oder emceed the ceremony, while Bryan Mayor Jason Bienski addressed a large crowd of Habitat supporters, future Habitat homeowners, local officials and media. He was joined by Habitat's board president, Mitch Morehead, executive director, Marco Maina, and future homeowner, Melanie Benford.
Melanie Benford told the crowd how she grew up in the area but moved away as a child because it was too dangerous. But now the working mother of three plans to be one of the first to move into the new Faith Subdivision. She wants to be part of its transformation. The neighborhood isn't very good right now. But with Habitat's help, Melanie is not only going to build a clean, decent home for her young family, she's going to build a safe community for her children and her neighbors.
Funding for the infrastructure was made possible by grants from The Meadows Foundation and Habitat for Humanity International, along with a generous donation from board member Denise Bermudez.