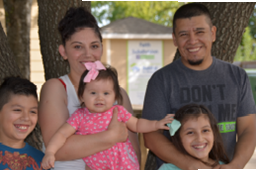 Guillermo Garcia and his wife, Maria Tovar, are originally from Mexico, but they've made Bryan, Texas, their home because of the community's economic
opportunities.
They met in 2002 while working at Sanderson Farms. Every morning, on the way to the freezer department, Guillermo would smile at Maria as she worked on the line deboning chickens. Soon, they married and their family has grown to include four beautiful children: Bryan, 15; Madelis, 13; Dayana, 5; and Jonathan, 3.
For far too long, the family has lived in a two-bedroom mobile home that the couple owns.
The space is way too small for a family of six. The mobile home does not have central heat or air conditioning, and it lacks adequate insulation, so the utility bills are high. Purchasing a Habitat home that comes with energy-efficient appliances will reduce that burden, allowing the couple to put what they save on utilities into important areas like health and education.
Guillermo is a welder by trade and works for a local energy technology company. Maria works at home taking care of the children. Guillermo says that learning about home maintenance, budgeting, security and code enforcement in Habitat's homeowner classes has been a valuable part of the program. Both Guillermo and Maria have helped build the homes of other Habitat homebuyers, which is great practice for the time when construction begins on their home. The couple is deeply grateful to all the donors and volunteers who will be instrumental in making their dream of homeownership come true.
"Without your help, it would have been impossible," Guillermo said. "I'm thankful to God for giving you such generous hearts."